If you have wandered from one bank to another to know their interest rates on the savings accounts then you must be disappointed to know that banks are only giving 0.06% to a maximum of 1% interest.
You can also check online and you will find that very few countries are giving more than that.
There are also some private platforms that are better than these savings accounts and give interest at around 2.6%.
However, the story gets upside-down when we change the type of currency we are planning to save.
In this article, we are trying to explain to you the difference Crypto Saving VS traditional Saving Accounts with a story of a crypto trader who multiplied his crypto holding in six months and shared his method as well.
Check his story below and understand the difference as well as the process to utilize the benefits of a crypto saving account.
How A Trader Multiplied His Crypto Assets With A Crypto Saving Account?
If you are a holder of cryptocurrencies such as bitcoin, Ethereum, Tron or any other cryptocurrencies possibly in cryptocurrency savings account you can earn interest up to 12% APY.
Yes, you read that correctly.
If you think that sounds like too much, I did too. However, in my never-ending quest to find investments outside the box, I recently researched and opened a cryptocurrency savings account on crypcoinbank.com and deposited some BTC I had.
Here I am earning 7% in crypto interest paid monthly in my account. Here's what I found about the benefits and risks.
Isn't Cryptocurrency Super Risky?
Yes, cryptocurrencies are very volatile, making them very difficult to trust and hold for a long period of time.
You can observe the level of volatility by observing the changes in the value of Bitcoin this year alone.
Bitcoin traded between $3,000 and $12,500 this year and as can be easily seen the difference is huge.
There are several stable cryptocurrencies that trade on a 1-to-1 ratio with the US dollar. These are the currencies you can hold and earn interest.
Even if these currencies are synced to the US dollar (i.e. 1 stablecoin = $1 USD), it does not mean that there is no risk involved with them.
Market forces can convert a stable coin worth less in sync with a dollar, which is similar to the "broke the buck" phenomenon of the money market.
That's all to say: Just because this account has the word "savings account" attached to it, it doesn't mean it's an FDIC, U.S. account holder or a U.S. dollar savings account at a regulated bank.
You ultimately need to decide whether the risk is worth the potential 12% return on a very liquid asset. Here are a few things that I found interesting.
How I Multiplied My Crypto Holding With Cryptocurrency Savings Account
I am one of the early crypto investors and invested in Bitcoin (BTC) in 2014, so in all these years I have built up a good portfolio of crypto assets.
I also run a lot of little experiments from time to time where I can learn by doing.
It is no different. I also avoided all the flashy "to be too good" promises made by cryptocurrencies and chose a rather new platform.
I opted for an initial deposit of $2,000 mainly because I had $2,000 BTC in my coinbase account.
After making the initial deposit, and having a few more weeks to learn, I've added all of my Tron (TRX) holdings as well as my crypto savings account. It's just under $30,000.
Open a Crypto Saving account
Let me explain Crypto saving and crypto saving accounts properly first. When you start saving in cryptos and not fiat then this saving will be called crypto saving.
Crypto savings are done in crypto interest accounts or crypto savings accounts.
It is similar to traditional savings accounts and you can earn interest on your holding in a crypto savings account.
When you open crypto savings account you allow a wealth management platform to lend your crypto assets to clients for high-collateral DeFi projects established at high-interest rates.
The investment team has the industry knowledge needed to navigate the complexity and market volatility of DeFi when it comes to crypto lending.
Now coming back to our track, after spending a good amount of time in research I chose cryptocoinbank.
It is one of the newest and most efficient cryptocurrency-saving and staking platforms. It supports some of the most popular and reliable cryptocurrencies like BNB, BTC, TRX, and ETH.
The platform also offers the best in the market interest on saving and staking accounts.
Setting up your account on this platform is easy, and they use the same bank-level encryption that every other financial institution uses.
Choose Which Currency You Want To Deposit
As I mentioned above, I first invested in BTC and then TRX but there are more options you can choose from.
Crypto Bank supports Binance (BNB), Bitcoin (BTC), Tron (TRX), and Ethereum (ETH). By holding Tron (TRX) you can earn an interest rate of 12% APY, with Ethereum (ETH) interest rate is 9%, with BTC it is 7% and with BNB it is 10% APY.
The Choice also depends on what cryptocurrencies you are currently holding. So check all the details before making any investment decision.
I first chose BTC, on which I will earn interest at a rate of 7% APY but the second time I deposited TRX on which I will earn interest at 12%.
Staking is another option for keeping your crypto assets safe on these platforms and earning interest on them.
However, staking comes with a lock-in period and the longer you hold the more interest you will earn.
Transfer Dollars To Your Crypto Savings Account
After creating a cryptocurrency savings account, transferring the fund into your savings account is one of the easiest things you need to do.
Just complete the KYC, access the dashboard, scan the QR Code with your wallet app and transfer the fund into your crypto saving account.
Instead of a QR code, you can also copy the wallet or account address to deposit your fund.
Start Earning!
Once you have deposited money in your savings account, then you don't need to do anything else. Interest will accrue and will be credited to your account automatically.
I started receiving some amount in my account every month.
And in the last 6 months, my assets in my account have grown to a certain point that I can say that crypto savings are profitable if you choose reliable platforms.
Understand The Difference: Crypto Saving VS Traditional Saving Accounts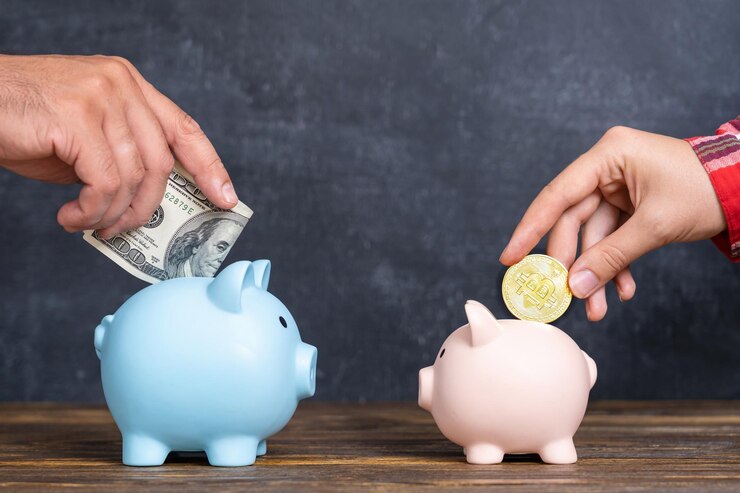 Now I am taking this beyond an experiment. Before making an investment and choosing a platform you need to know what the overall risk is.
Basically, your cash currency is secure in many ways but cryptocurrency is not.
Traditional Savings accounts are FDIC insured, so you don't lose your funds if your bank goes bankrupt.
The US dollar is a world reserve currency backed by the full trust and credit of the US government, whereas cryptocurrencies have no such backing.
A stablecoin is maybe synced with the US dollar but it is not the same as the dollar.
Big banks have billions to throw at safety. A cryptocurrency upstart may fall short on certain safeguards.
Manage Risks and Profit
Considering the above risks, I do not think there is any point in holding a large amount in these accounts as of now.
Also, I wouldn't suggest putting your emergency fund money in an account like this, or any money you think you can't live without.
The risk of losing your money is always there, and the chances to happen this is higher than the risk of losing money in your cash savings account. But is it worth the risk anyway?
For me, it's — on a portion of my liquid assets. It makes sense for me to go bigger and add more into my crypto savings account, as I'm not risking my emergency fund and I'm taking many of the above risks by holding USDT in another account without gaining anything.
Does a Crypto Savings Account Make Good Financial Cents?
For now, this experiment makes sense for those who are long-term cryptocurrency holders, or those who want to make their holding on work to get good returns.
However, due to the additional risks mentioned above, there is no point in putting a huge amount of your crypto savings in one of these accounts.
If my principal crypto assets can be insured against loss and theft similar to the US banking system, I can think about putting a significant amount in this crypto savings account.
Additionally, I am thinking that, if I can insure my account against depreciation, theft and bankruptcy at even 2% per year – I'll borrow millions of dollars to add more crypto to this savings account and a very healthy low-risk spread I can keep earning.
It is time to finally conclude the post with the statement that crypto saving is only beneficial if you find a reliable platform otherwise there are various risk factors that are enough to stay away from it.
You can try Crypto Bank to start learning and earning with your crypto assets, and for more information, you will have to spend some time on the internet.